Your new boat house or boat port will safely store and protect your boat and other personal watercraft, as well as providing valuable dry space to keep other aquatic equipment like life jackets, water toys, paddles and fishing gear. Kehoe's in house design team will work with you (and your architect if you have one) to build a quality structure. Our unique structural designs are more than cosmetic embellishments. We will ensure that your vision matches the long term functionality that you require.
Choose What's Best for You
With Kehoe you get the right style of boat house or boat port for your location. We always take wind and current issues into consideration when designing structures for the boat you own, or the boats you intend to purchase long term. Finishing can range from a simple open side steel roof boat port, to a fully enclosed boat house with decorative exterior material options and tongue and groove interior finishes.
Floating Boat Houses & Ports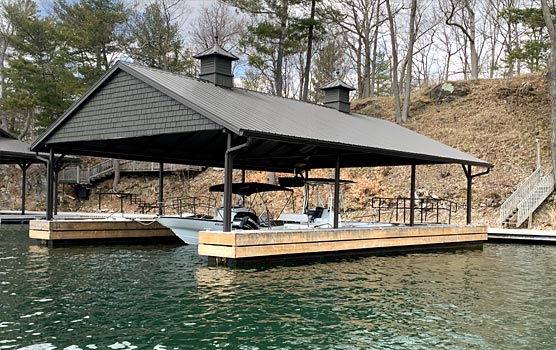 Stationary Boat Houses & Ports